Posted on March 25, 2019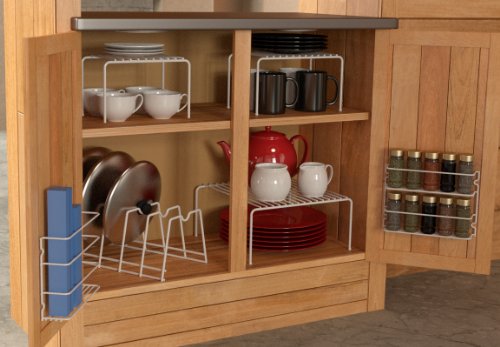 Kitchen storage is one of the most important aspects to consider when undergoing kitchen remodeling or when having a new kitchen built. With adequate storage and an organized kitchen, cooking can be enjoyed much more. No matter how big or small your kitchen is you should never take storage for granted. Below are three kitchen storage ideas that can greatly improve your kitchen's aesthetic appeal and functionality:
Custom Cabinet Fittings
Even if you have enough drawers and cabinets in your kitchen, you can't just dump everything in there when organizing your kitchen or you'll end up having to dig through your drawers looking for a fork or a can opener or worse, you might end up cutting yourself with kitchen knives. Having custom cabinet fittings made especially for your cabinetry can significantly improve your life. Have divisions added to your drawers but make sure the size is universal, meaning they can fit in standard dish sizes so even if you decide to change your china later on, you won't have problems fitting them in your cabinet fittings. Divisions for plates and utensils make it easier to find things and they also serve as protection for your dishes.
Pasta Drawers
Pasta drawers don't necessarily just accommodate pasta; they can store all kinds of dry goods, allowing you to keep everything within reach without having to take up precious counter space. Pasta drawers typically have glass or plastic coverings so you can see what's inside. They are perfect for dry goods like pasta, coffee grounds, cereals, spices, or even some of your kitchen supplies. Have several pasta drawers installed in your kitchen counter so you can easily access ingredients while cooking. Since they are see-through, you can easily see what needs restocking whenever you have to make that weekly trip to the grocery store. Ask a kitchen remodeling expert about the best size for your kitchen.
Custom Pull-Outs for Small Kitchen Appliances
Small kitchen appliances can take up so much counter space so it is best if you have custom pullouts made for each one so they are hidden when not in use and you can just as easily pull them out when you need them. Microwave drawers and enclosure for toasters and coffee makers are perfect for small kitchens.
When undergoing kitchen remodeling, make sure to prioritize kitchen storage. Whether you want more storage added or you want to improve on your existing cabinetry, your kitchen will look better and bigger with ample storage space.