Posted on May 24, 2019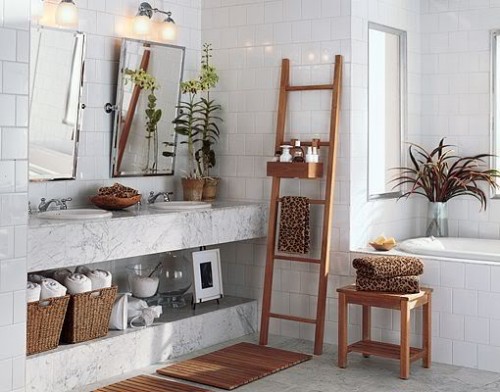 Storage is invaluable to a bathroom. Having all your toiletries, towels, and other bathroom essentials stored neatly right inside your bathroom can save you time and make your bathroom much more functional. While it's easy to forget about the visual appeal of storage spaces, as they are mostly added for function rather than form, if you want a visually appealing and stylish bathroom, adding storage that creates visual interest in your private space can make a big difference. When you undergo bathroom remodeling, make sure to pay equal attention to both function and aesthetic appeal when adding storage. Below are few storage ideas that combine both form and function:
Storage Vanity Niches
Adding niches to your bathroom is a great way to add permanent storage. It's also easy to create a point of visual interest in a bathroom niche. A few lighting additions and interesting shelving units added to a bathroom niche will do the trick. It's best if you follow a theme for your shelving units. If you want something minimalist and light in color, glass shelves or stainless steel shelves are great but if you want something more traditional, hardwood shelves or dark-colored shelves are great options. Follow the same rule when adding lighting. When adding bathroom niches, it is best to have it done by a bathroom remodeling expert, as it can be tricky to do it on your own.
Ladder Shelves
When adding freestanding storage, it would be a great idea to choose a storage unit that adds something fresh and interesting to your interior. Ladder shelving units are great for this purpose. If your bathroom color scheme is purely neutral, add some color to your storage units to create a nice contrast between bright and neutral. The great thing about freestanding storage is that you can always remove them and repaint them when you want to change the look and feel of your bathroom.
Wall Shelving
There are so many possibilities when it comes to wall shelving. You don't have to stick to traditional shelves; you can experiment with various materials. Crates, for instance, can be recycled as shelving units. They are great for adding warmth to a bathroom, as they are reminiscent of country-inspired interior.
Storage should be an essential part of any bathroom remodeling project so make sure to assess your current bathroom storage before deciding on a final plan for your remodeling project.