Posted on January 31, 2019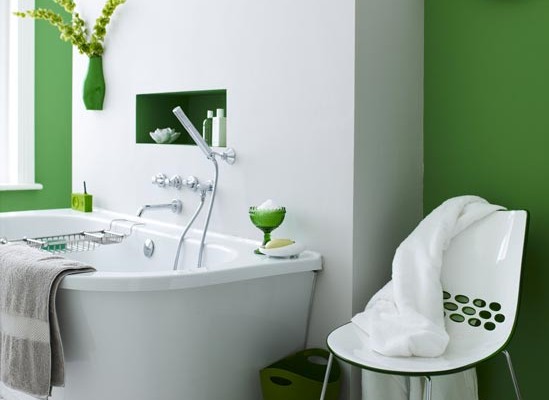 The global push toward 'green' design continues, and bathrooms are yet another area where the frontlines are being established. There are actually a few good reasons why the bathroom should be designed to be as eco-friendly as possible. Nearly two-thirds of the water used up by the average household is expended in the bathroom. If only for the purpose of reducing water consumption–and saving money in the process–going 'green' in the bathroom is a great idea.
One of the most effective ways to reduce your water consumption is to change out your old fixtures for new ones with innovative water saving features. If you have had the same toilet, sink, or bath for a number of years, they are probably outdated, worn-down, and inefficient by now. Because of undetected leaks and generally poor performance, you are probably also spending a lot more money than you think.
Look into the latest developments in toilets, sinks, faucets, and shower fixtures. If you haven't shopped around for these items in a while, you would be surprised at how many innovative and cost-saving gadgets there are on the market today. From dual-flush toilets to sensor-equipped faucets that shut-off automatically as you pull your hand away, the bathroom design arena is definitely ripe with great environmental friendly options.
Apart from reducing your costs, you might also want to look into making your bathroom healthier and safer. It would be best to avoid using vinyl if it is at all possible, due to the harmful organic compounds that they produce. Go for organic materials for your towels and mats whenever possible, and look into chlorine-free shower curtains that do a good job of keeping water off the non-shower areas and don't have that acrid plastic smell.
There are many more ways by which you could make your bathroom 'greener', from installing more efficient lighting to using natural tiles. These are only a few ideas but they should get you started in your quest toward a more eco-friendly bathroom!