Posted on June 10, 2019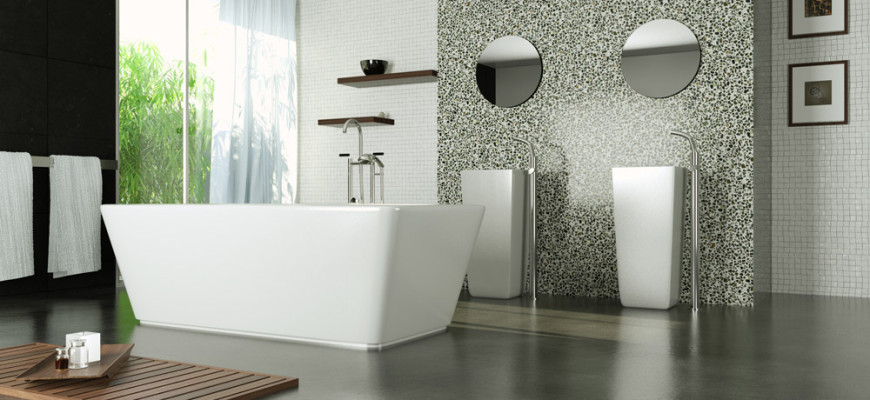 Since shower floors are constantly exposed to wetness and dampness, durability is of utmost importance when choosing the type of materials for your shower floor. It is also important to choose a material that is easy to clean and maintain for hygienic purposes. If you are undergoing bathroom remodeling and you are in the lookout for eco friendly flooring options for your shower area, then you might want to consider the following options:
Recycled Glass
Recycled glass is always a good option because they are eco-friendly and there's an abundant supply out there. Recycled glass isn't just limited to your countertops, as you can also use recycled glass for your bathroom floors. Recycled glass pebbles look just as great as regular pebbles and they're definitely eco-friendly. Plus, they offer a very enchanting effect that makes the place look brighter since they are slightly reflective. However, if tiles are more to your taste than pebbles, you can always opt for recycled glass tiles. They also come in a variety of sizes and styles suited for varying preferences.
Concrete Floors
Concrete floors are perhaps one of the most cost-effective options plus they give off a very rustic or industrial vibe depending on the kind of finish you choose. They are also quite versatile, as you can choose to create a variety of designs with them. Ask your bathroom remodeling contractor if your bathroom can support full concrete floors.
Terrazzo
Terrazzo floors are typically made from a mixture of granite, quartz, and glass materials that are sealed and bound together to create a solid and smooth surface. Terrazzo floors are a great option for bathrooms as they are very durable and most options are very stylish. Since they can be quite expensive, you can just use Terrazzo floors for your shower area and choose another material for the rest of your bathroom space.
When choosing bathroom flooring, especially for your shower area, you should always prioritize durability since flooring is expensive to replace. However, this does not mean that you have to sacrifice style for function. Consult a bathroom remodeling expert for the best option for your bathroom to make the most out of your remodel.