Posted on June 5, 2019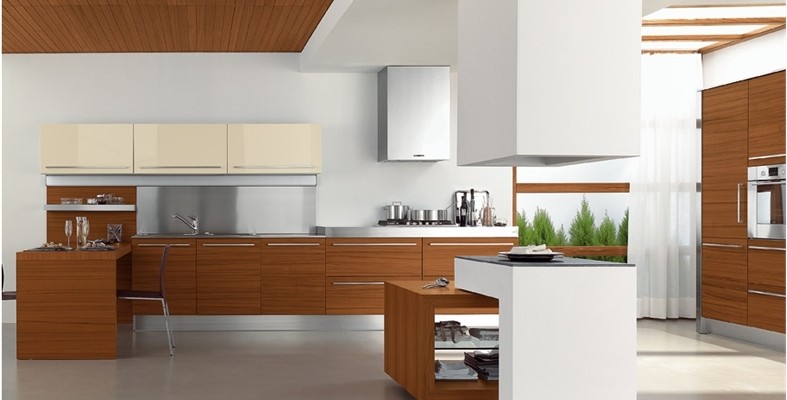 Modern kitchens have quickly replaced more traditional design choices in many homes. It doesn't come as a surprise, as people now prefer cleaner lines, minimalist designs, and clutter-free spaces. Modern kitchens are superior in both functionality and aesthetics and to achieve this, there has to be a specific spot for everything to avoid clutter and to make all appliances accessible. If you're undergoing kitchen remodeling to shift from an old traditional kitchen to a more modern one, you may want to take note of the elements that make up a modern kitchen.
Horizontal Lines
Modern kitchens focus more on horizontal lines, as they help in achieving a more cohesive and clean design and they also do wonders for opening up a space. Frameless cabinets, long kitchen islands, and horizontal tiles or wood are often used in modern kitchens because they look sleeker and less cluttered.
Simple but Sleek Fixtures
There are some elements of industrial design used in modern kitchen. Stainless steel surfaces, fixtures, and open ceilings are just some of these elements. Most fixtures used in modern kitchens are simple but sleek. Stainless steel, solid black or white surfaces, and sleek faucets are often used. You should make sure to change all of your fixtures during the kitchen remodeling process if you want a truly modern kitchen. Modern kitchens lack the elaborate designs and ornamentation present in traditional kitchens.
Abundance of Lights
Lighting is another important element of modern kitchens. Access to natural light and artificial light is important. Large windows, lots of accent and task lighting are commonly seen in modern kitchens. While modern kitchens are equipped with lots of lights, they are kept simple and discreet.
Cohesive Design
Modern kitchens have a very cohesive design. Everything is chosen together from the countertop materials, tables, cabinetry, and bar stools. This is why it is important to choose all the materials before undergoing kitchen remodeling so that everything falls into place and complements each other.
Transitioning from a traditional kitchen to a modern one requires changing everything from the floors and countertops to the cabinetry, doors, and lighting, which is why you should be as involved as you can in the planning stages.