Posted on June 7, 2019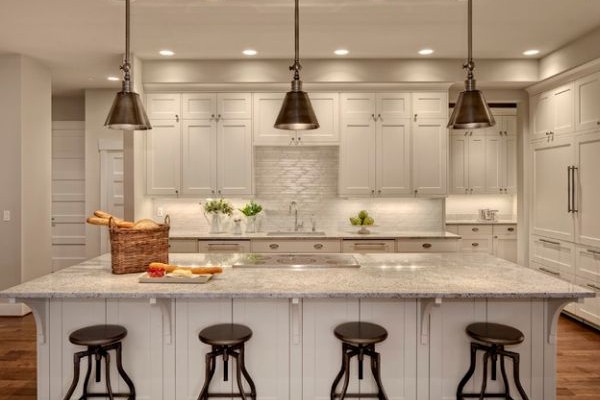 Kitchen islands are more than just a focal point of visual interest in the kitchen, they offer added functionality, extra space for prepping meals, and they also double as a dining area. Since kitchen islands have so many uses, it is important to make sure that the area is adequately lit. There are so many available options for kitchen task lighting but perhaps the most common and most convenient option is pendant lighting. There are many factors to consider when choosing pendant lights for your kitchen island. If you visit a kitchen showroom, the options can be overwhelming, which is why it is important to know exactly what you need.
Style
Pendant lights come in just about every color and shape. One of the most important factors to consider when choosing the type of lighting for your kitchen would be its color and style. Do you want a stainless steel shade or something lighter? Do you want a glass shade? Determine the best style that would complement your kitchen so that your lighting would both be functional and aesthetically pleasing to look at. Pendant lights can also be used as accent pieces, as they can draw visual interest in a neutral kitchen.
Measurement
When choosing pendant lights, you should also consider its dimensions. How big do you want the shade to be? The size of the fixture depends on how many you want to install above you kitchen island. If you're installing more than one, you have to make sure that they are proportional to each other in terms of size. Height is usually adjustable but if you are very particular about this aspect, visiting a kitchen showroom will allow you to choose lights that are just the right height for your kitchen.
Balance
When installing more than one pendant light, it is important to ensure that it is visually balanced and that the distribution of light is also balanced throughout the whole island. Most interior decorators use the rule of three for pendant lighting. If your island is long enough, installing three pendant lights are a good option. However, if three is too much, you can also just stick to two on each side of the island or just one large one depending on how much light you need.
When choosing kitchen lighting, it is best if you visit a kitchen showroom so that you can see how they look when installed in actual kitchen before making a decision.