Posted on May 14, 2019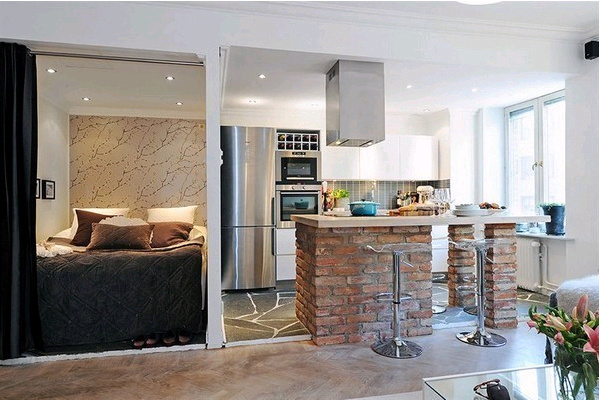 300 square feet of space might be too small for a house in the suburbs but in the middle of a bustling and heavily populated city, it's not uncommon to fit everything in that small space. So how do you live comfortably in an apartment that's only 300-square feet or less? It's really all about proper layouts, innovation, and creativity. This much space will more or less give you a studio apartment, with no room divisions so you really have to make the most of it. On the upside, undergoing a full apartment renovation in a studio will likely be cheaper than bigger apartments, especially if you don't plan to add rooms and fancy upholstery.
Buy Furniture with Multiple Uses
A small kitchen island for instance can also be used as a dining table, work area, and even a bar when you have guests. To maximize space, get a countertop that's longer and slimmer so you can place it against a wall. Add two or three stools and you're good to go. You can even have it built-in if you want it to be a permanent addition to your home.
Creating a Bed Space
Assess your space and try to imagine what you can do with it. If you live in a studio, it means your bedroom will be in the same room as your kitchen, dining, and living room. If your ceiling is high, you might be able to add a platform to raise your sleeping area but if that's not the case, opt for pullout beds or sofa beds. Beds that can be stored against the wall when not in use are a great option, as you can keep it out of the way when you're working at home or when you have guests. It should be easy to explore your options when you're undergoing a full apartment renovation, as you can consult an expert about the best solution for you.
Keep Your Things Hidden
Clutter can really be your biggest enemy if you live in a small apartment so as much as possible, keep all the small things you own in storage and keep them hidden.
With a little creativity, you can make the most out of your small space. Make sure to choose wisely when you undergo a full apartment renovation, as removing permanent fixtures can be rather costly if you change your mind later on.