Posted on July 2, 2019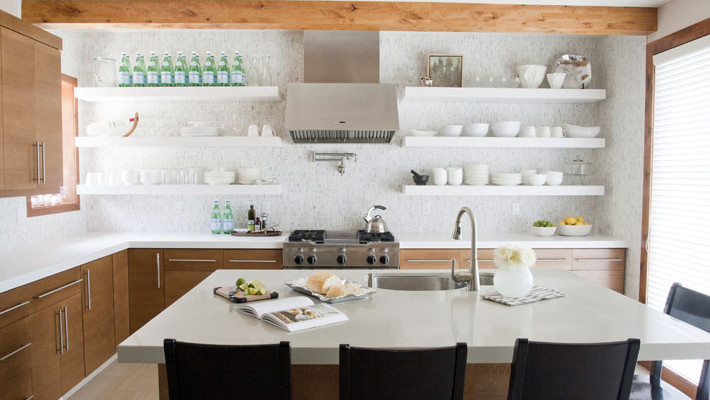 While open shelving is not an option many homeowners would entertain, as they require more maintenance than closed cabinets, open shelves can actually give a kitchen more personality. But it's more than just for displaying your silverware or your ingredients; it's also quite practical, as you won't have to dig through shelves to find what you are looking for. Open shelves, if organized properly, can give you more inspiration to cook since you can readily see what you have in stock without having to open and close shelves to check your kitchen inventory. If you visit a kitchen showroom, you'll find various inspirations for open shelving and you might just decide that it's a pretty great option for your kitchen too. Below are some tips on how you can make open shelves work properly in your kitchen:
Keep Everything in Similar Containers
Open shelves don't work for everything in your kitchen. A lot of things are better off hidden from plain view like pots, pans, and other cooking supplies but it does work well for ingredients like spices, dry goods, and condiments. Just make sure to buy the same kind of container for each type so there's uniformity in your storage. This will also make your shelves more aesthetically pleasing to look at.
Don't Just Mount Them on Walls
Open shelving isn't limited to walls; you can always look to other parts of your kitchen to add some open shelves like the sides or corners of your kitchen island or below a countertop. You can also opt for ceiling-mounted shelves. These work great for storing glasses and plates that you use on a regular basis or for special china and plates that you only use for special occasions, since these are often display worthy. You can visit a kitchen showroom to check out the available options for open shelves.
Open Shelves for the Pantry
If you'd rather keep your kitchen supplies from plain sight but would still want them to be easily accessible, you can create an enclosed pantry with open shelves inside so you can just as easily walk in and grab what you need without looking to hard.
There are a ton of options for open shelving materials, just visit a kitchen showroom to find the best material and style for you.