Posted on December 21, 2018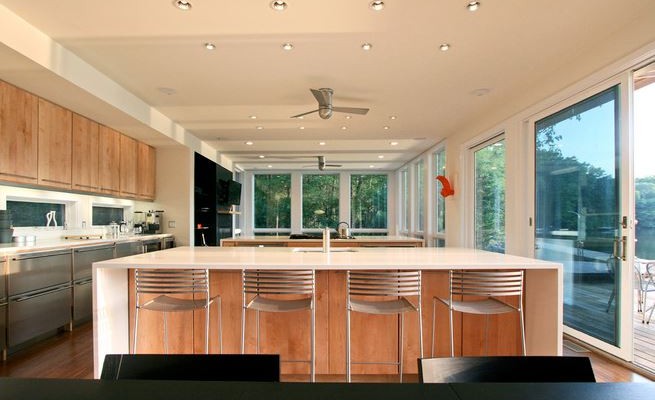 One of the most common issues addressed by apartment remodels is the lack of sufficient space – either vertical or horizontal space. There are actually many ways on how to address this issue. Modern interior design perspectives allow for a minimalist approach on furnishing and décor, which gives the home a more breeze and uncluttered space. However, while there are many strategies on how to solve this interior design dilemma, a lot of people actually miss out on the fact that it is not only the horizontal (floor area) space they need to address, but also the vertical space (ceiling height). Hence, when trying to improve the space limitations in your apartment, aside from looking sideways, think up as well. Always think how you can improve the illusion of space upward, thus making your ceiling look higher. When remodeling a small living room for example, you would not want to just improve the space sideways, but vertically as well. Here are a few tips to get you started:
Choose short, horizontal furniture – When you want to emphasize the space between the floor and the ceiling, you should avoid tall and bulky furniture. The effect that you want to achieve from this is a more open space between your furniture level and the ceiling. Choosing lower couches and center tables for example will emphasize the vertical space of the living room drastically.
Incorporate vertical stripes in your walls and fabrics – This is a no-brainer. We all know that vertical stripes create an illusion of height and elevation. Having vertical stripe prints in your home will instantly create a taller illusion between your floor and the ceiling. However, this strategy can also be tricky as it could make the room narrow if you use bold stripes, so choose your prints wisely.
Use drapes with full patterns – Drapes in general are actually a good way to create an illusion of height in any room because of the way it flows from the ceiling to the floor. However, patterned drapes emphasize its length, which further leads the upward giving it an illusion of increased height. To achieve the complete effect, drapes will look better on wide windows with large glass pieces. Always keep the drapes on the side and do not keep the blinds dropped midway of the window when not in use.
Addressing space issues is a crucial part of doing an apartment remodel. While there are many ways to do so, it is important to know how to improve the illusion of space not only horizontally but vertically, because if you want to make your home feel bigger, might as well do it wholly. So if you are still having space issues with your apartment after all the many makeovers you have done, try these ideas the next time you do a remodel and finally make that ceiling look higher.