Posted on July 4, 2019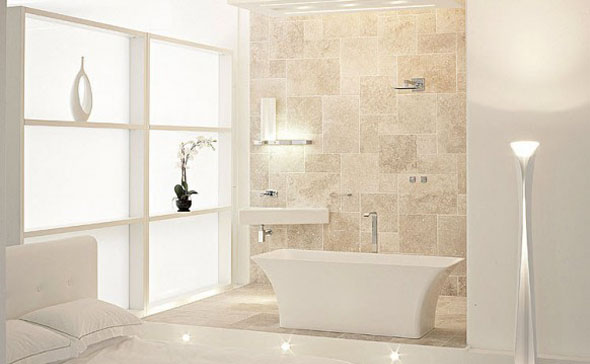 White is such a serene and timeless color that it's really difficult to mess it up if you're going for an all white approach in a particular room of your home. White is especially ideal for the bathroom because the lack of busy color and prints can relax your senses and let you just sit back and unwind without any visual or auditory distractions. While a lot of people hesitate to go all white, it's actually a great option for bathrooms especially if you don't have much space. If you're about to undergo bathroom remodeling and you're struggling with the color scheme, why not consider going white all the way? Below are a few reasons why white is one of your best options for the bath:
White Makes a Room Look Bigger
Bathrooms, especially in apartments, are typically designed to the bare minimum especially when it comes to space. When you purchase an apartment, it usually just comes with the basic fixtures and unless you're buying it in its pre-selling stages, you usually have limited control over how big it's going to be. White can make a room look bigger and really open it up. With enough access to natural light, it can look like a heavenly place for relaxation. So if space is an issue for you, white is your answer for creating the illusion of a bigger space. If you're undergoing bathroom remodeling, consider changing your fixtures too if they don't match the style you have in mind.
Easy to Maintain
People often hesitate to go all white because dirt, dust, and stains can easily show as opposed to darker colored options. However, this shouldn't be much of an issue in the bathroom since most tiles are easy to clean by just wiping off with a mop, damp cloth, or a stain remover. The upside to an all white bathroom is that you can easily spot when it gets dirty so you won't have to wait for germs to completely take over before cleaning it up. Most people only clean up when the mess is visible. Just choose tiles that are easy to clean and maintain so you won't have to slave away cleaning your bathroom every single day.
If you want little pops of color here and there, then make your accents colorful. Just add a colorful shower mat, curtain, a vase, a painting, or anything that you want. Consult a bathroom remodeling professional for the best tile options for an all white setup.