Posted on March 27, 2019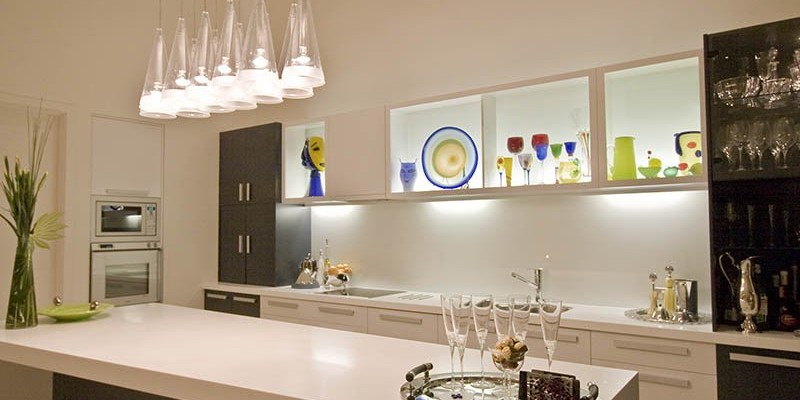 Lighting is indispensable in a kitchen, especially for those who live in apartments that don't have enough access to natural lighting. The way your kitchen lights up at night can make or break your interior, which is why it is important to give it due consideration. If you are undergoing kitchen remodeling, it might be a good idea to assess how your kitchen is currently lighted so you can make improvements during the remodeling process.
What to Avoid
The most common mistake you can make when installing lighting fixtures in your kitchen is to install only one source of light. A lot of homeowners who don't give kitchen lighting due consideration often end up installing just one central light to light up the kitchen. This can be unsightly and inconvenient, especially while preparing meals so it is best to take the time to assess which areas of your kitchen will need adequate lighting and which can benefit from purely decorative lights. You can ask the advice of a kitchen remodeling expert if you're unsure about which lighting options would be best for your space.
Layering Lights
Layering your kitchen lighting fixtures does not only add to the functionality of your kitchen but it will also affect how your kitchen looks aesthetically. You don't have to turn on each light every time you need to use your kitchen, they're just convenient to have around. For kitchen islands, task lighting is a great option. Since it is preferable that they dangle nearer to the work surface, pendant lights may be your best option for this purpose. To improve the ambience of your kitchen, you can also choose to add some ambient lights. Recessed lights are perfect for this purpose so if your cabinets don't reach all the way up to the ceilings you may add some ambient lights there. You can also choose to add some on each corner of the kitchen so you can just choose to leave them on at night even when no one's using the kitchen.
Decorative Lights
Adding a few decorative lights or even just one big fixture like a chandelier can make your space look extra special and aesthetically pleasing to look at. You can even choose to add several pendant lights and install them in the center as a focal point of interest in your kitchen.
Lights can really improve how your kitchen looks and with adequate lighting, you might even be enticed to prepare home-cooked meals more often and spend more time in your kitchen. If you're undergoing kitchen remodeling, make sure to add lighting to your list.