Posted on March 25, 2019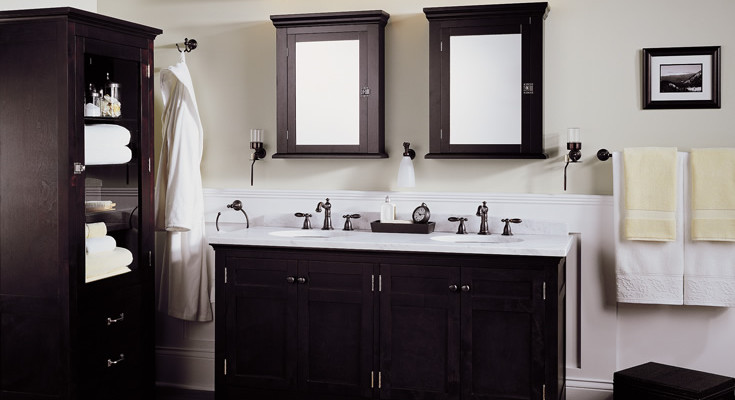 Few people understand the importance of bathroom lighting and little attention is given to this aspect whenever a new bathroom is designed. When most people choose lights for their bathrooms, they often choose between white and warm and they often forget to add lighting in the shower area. Lighting is a key aspect of any bathroom design, as it can significantly improve the look and feel of your bathroom and it can also do wonders for improving your overall mood and well-being. Do you ever wonder why a bathroom showroom looks extra appealing? Even if you buy an entire set straight out of a showroom, it can look significantly different in your bathroom compared to how it was portrayed in the bathroom showroom. This is because they give special attention to how they light up the space and they often install state-of-the-art lighting fixtures to improve a bathroom's aesthetic appeal. If you want to improve your bathroom's ambience, you may want to consider the following lighting options.
Add Colored Lights
Do not be afraid to install different-colored lights in your bathroom, as they can greatly improve your mood. Colors in the white light spectrum such as red, orange, green, and blue can do wonders for your bathroom. You can install these lights to light up open shelves in your bathroom or you can also install blue, green, and red LED lights to your bathroom. When installed in certain angles, they can create a number of colors and lighting effects. Another advantage to installing different colored lights is that you can easily adjust the kind of lighting you want depending on your mood. Blue is good for days when you want to relax and plain white can be great for days when you are in a hurry and you want your shower to wake you up.
Shower Fixtures with Built-in Lights
There are a lot of showers these days that come with built-in lighting. This may seem like a luxury to many people but it can do wonders for your health and mood. When you have adequate lighting in the shower, you'll likely come out more refreshed. This is especially great for bathrooms that don't have access to natural lighting. There are also tubs that come built-in with a variety of lighting options.
Visiting a bathroom showroom can help you pick out the right kind of lighting fixtures for your bathroom. You'll see an array of lighting options and you'll also get an idea of how they will look when installed.