Posted on October 7, 2019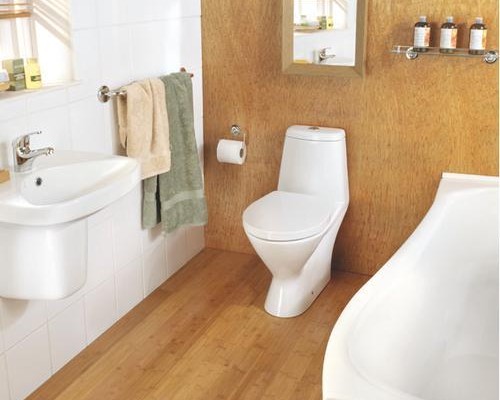 Picking out flooring options requires more than simply picking out the ones that look nice and match the bathroom designs you have in mind. Bathroom renovation NYC is more than that.
You will have to pick out floors that pass the following qualifications: it must be able to repel water to avoid any water damage and be easy to clean up in the event of spillage; it must be safe enough to walk through to avoid any slippage; and, as mentioned above, it should look nice to encourage a relaxing atmosphere within the bathroom. There are different flooring options available to you and it would be best to go over all of them to make sure you get the ideal floor for your bathroom.
Ceramic
One of the most popular types of flooring within bathrooms, ceramic tile is known for being water proof and is textured in such a way to avoid slipperiness. These are available in several shapes and sizes as well as different designs.
Ceramic tiles are durable and are inhospitable to bacteria which make them more hygienic but they can have differing levels of porosity – this is something you must take into account as it is important to avoid anything that isn't moisture-proof.
Laminate
Laminate flooring is quite popular with many bathroom designs because the way it is manufactured makes it easy to add nearly any sort of design onto it. Laminate floors can imitate the classy feel of different hardwoods, like mahogany and oak, or even the smooth feel of slate or granite.  These are durable, easy to clean, and an easy choice for most bathroom renovation NYC projects because of their price.
Carpets
Majority of people would not believe it but there are some bathroom designs which incorporate carpet flooring. This is made possible by carpets that are designed to resist mildew and stain while preventing any water to seep through by employing a water resistant backing. The different designs available with this choice are also quite numerous and it is warm to the touch, unlike regular bathroom flooring.
Stone
Offering a beautiful and natural look, we have stone tiles. These are available in different sizes and are also very durable. You will, however, need heavy-duty sub flooring if you want to install a stone floor. Stone flooring works well if you are planning a zen theme for your bathroom. One downside to stone is that it tends to become cold and this may be unpleasant for some people.
Vinyl
A staple in bathroom renovation NYC projects, vinyl is available in sheet form or in tiles. The advantage to choosing vinyl is that it is available in rolls and this can provide a continuous flow to improve the look of your bathroom. They are also available in different patterns but a major selling point of vinyl would have to be their price.  Vinyl, however, requires more maintenance than other flooring options but it is nothing too difficult.
Visit kbremodel.com to get free consultation advice or a free estimate for your bathroom remodeling. You can also go through the pictures of bathrooms within the website to help inspire you and to get more bathroom tile ideas.