Posted on January 15, 2019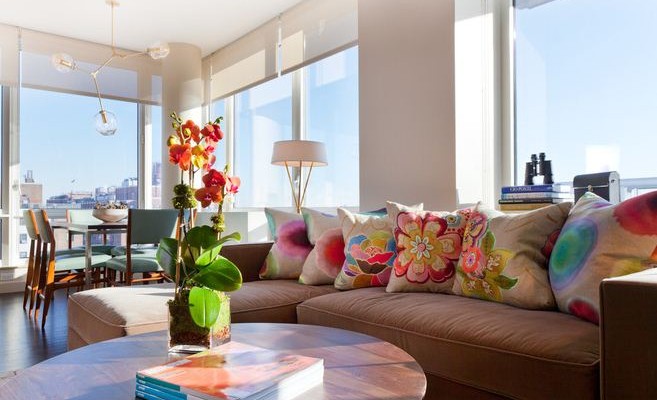 Imagine this scenario: you are doing a living room remodel and you are to start with the easiest task there is to do. You see the bare couch pillows that need covers and you think to yourself, this would be easy! While it sure is easy for a lot of people, dealing with patterns and designs can be a scary thing for some. You can never really underestimate the little details involved in doing living room makeovers. Sometimes, it is the little details like this that make a significant improvement and impact on your apartment remodel. So as you stare at those pillows and think about the possible themes and designs to choose, here are some secrets to picking the best patterns for couch pillows:
Blooms – Floral power never goes out of style. There is simply something about flowers that instantly make a room brighter, more colorful and closer to nature. You will never go wrong with floral prints as this will make your living room feel like having a bouquet of fresh flowers every day. Do not limit yourself to just a single tone or print though. Set a color palette and choose the best prints that go well with the living room's overall theme and ambiance.
Geometric – Geometric themes and designs are playful and colorful. A huge, white or pastel-colored couch is a common attraction in modern living rooms nowadays. So if you would like to inject some color while retaining the modern feel in your living room remodel, geometric prints are the perfect choice for you. This kind of print is very upbeat for the eye, so make sure you blend it with neutral fabrics, paint and rugs.
Be inspired by your art works – Sometimes, when design inspiration seems to have left you for good, it pays to look around and get inspiration from things you love and thing you already have up on display such as artworks. May it be your children's creation, a collection of artsy family photos, or genuine works of art by professional artists, these works will surely suggest a unique color palette and theme, which you can use for your choice of pillow theme and design. Look around your apartment as there will always be a dominant feature or accent, which you can use as an inspiration.
Choosing prints and designs for couch pillows is never a thing to underestimate when doing a remodel. Sometimes, it is the little decisions like this that create a huge impact in a room's overall appeal. So think it through and plan creatively. Keep these tips in mind and never be intimidated by those pillow prints ever again!