Posted on December 8, 2018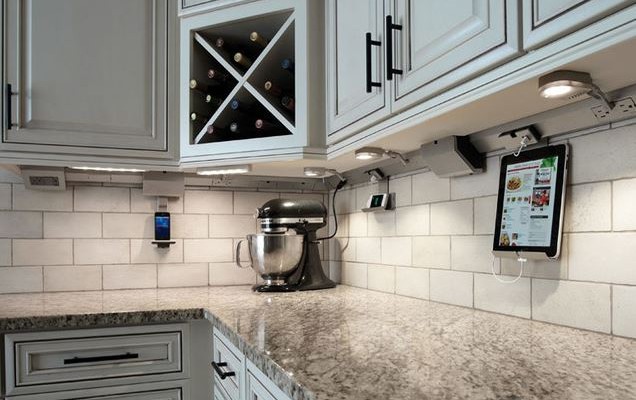 The kitchen, being the most important part of the house, is oftentimes the most renovated area in the house as people always look for improved functionality. However, from time to time, it is natural for us to look for more than functionality. Sometimes, we also look for some things that will make the kitchen more beautiful and easier to work around in. A kitchen remodel would often focus on improving the layout of the room, and updating some appliances. However, the kitchen also needs to grow with the times. A lot of creative treatments are being created to make our kitchens a more beautiful place. An example of which, are kitchen cabinet additions. So if you feel like your kitchen cabinet is just getting more dull, here are great add-on ideas you can consider the next time you do an apartment makeover:
LED Lights – Lighting is a very important element all around the house. In the kitchen, it becomes more important because we all need to be careful and accurate in preparing food for our families. The thing with good lighting in the kitchen is that, aside from making the room light up, it actually makes kitchen work more pleasant and inviting. Most importantly, LED lights under your cupboards will actually make your backsplashes and countertops more spectacular!
Gadget mount – Gadgets have come from being a luxury to necessity. Today, gadgets have many useful functions; one of which is as a dependable reference tool in the kitchen. What better way to do a kitchen remodel than to stay in line with the latest technology right? You can install tablet and cellphone mounts just below your kitchen cupboards to give you an easy access to measurement applications and online recipes. This will go well with built in gadget chargers too, so you can just plug your gadget anytime they run out of battery – right in the convenience of the kitchen!
Smart kitchen tools like jar openers and paper towel dispensers – A lot of people, especially moms, would wish to have a kitchen that will be easier to work around in considering the fact that managing the rest of the apartment can be difficult already. Hence, if you are planning a makeover, try add-ons for your cabinets that will actually make it easier for you to work around you kitchen. A jar opener may sound insignificant. But believe me, you will always wish you would have installed it the minute you encounter a difficult jar. Also, how often do you leave the paper towel in the wrong places. When working on something immediate in the kitchen for example, you cannot waste time looking for the paper towels, and instead, you need to have it in just one place. So when remodeling your kitchen, you should at least be smart with your add-ons.
These are only three of the many cabinet add-on ideas you can utilize on your kitchen makeover. However, while some can be considered as unnecessary expense, some actually prove very useful – like these three. So the next time you remodel your kitchen, do not just think about a new design or layout; think about the little details that you can add into the whole set up to make your kitchen more beautiful and functional.