Posted on June 3, 2019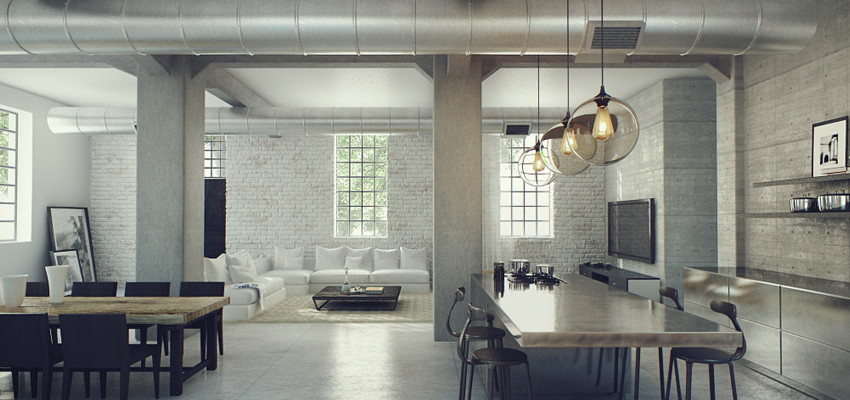 Industrial design is commonly seen in lofts but it can also be used as a design theme for apartments and homes. Open spaces and crude finishes are common elements of industrial interior design. Industrial-themed homes carry a certain kind of character and charm that is often absent in well-polished interiors. The roughness of the interior and the history of the materials used give each space its own unique character. It's easy to incorporate some elements of industrial design especially when undergoing a full apartment renovation. If you want to go industrial with your home, keep note of the following features and elements of this design theme:
Large, Open Spaces
This is one of the primary elements in industrial design, as lofts typically lack the wall divisions that traditional apartments and homes have. If your aim is to make your apartment look bigger, tearing down walls will certainly open up your space. If walls separate your living room and dining area, for instance, you can combine the two rooms together and just create divisions by using furniture. It can really open up your space and give other areas in your home access to natural lighting. Large windows are also a common element of modern industrial design.
Rough Finishes
As previously mentioned, one of the elements of industrial design are crude finishes. Reclaimed wood is perfect for this purpose, as it has the roughness that is characteristic of industrial themed homes. You can use reclaimed wood for floors or for window panels. Most industrial themed homes have open ceilings with the wood panels or steel panels showing. Concrete floors are also commonly seen in such homes. If you're undergoing full apartment renovation and you need to change your flooring, concrete floors are a good option, as they are durable, they exude character, and they are pretty versatile. If concrete floors are not an option, you can look for other flooring options that offer the same look and feel.
Mixing Styles
Industrial design is, by nature, pretty versatile. You can incorporate it with other styles like country, modern, and even vintage. This makes it easy to incorporate your own personal style to your home.
If you plan to undergo full apartment renovation to achieve a more industrial looking home, make sure that you come up with a proper layout and design before giving your remodeler the go-signal for starting work.