Posted on November 12, 2018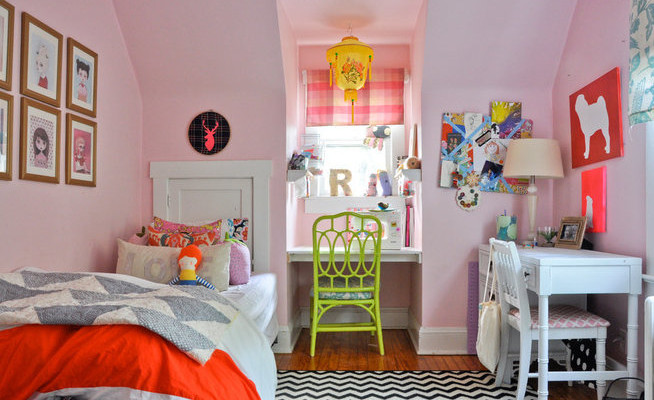 The bedroom is always that place in the house we run to whenever we seek some personal space and rest. For children, a bedroom serves more functions than it does with us adults. For one, a bedroom is where they play. This is where they keep their treasures and trinkets, and this is where they dream. Regardless if it is a bedroom in spacious townhouse or in a tiny city apartment, a bedroom will always be a special place for the kids. Hence, it is also important to think of their space when doing a renovation. When doing a remodel of a New York City apartment for example, you might get overly conscious about your lack of space – as what the case is among most NYC apartments today. So if you are eyeing an NYC remodel, here are a few great ideas you can incorporate in your little one's personal place:
Do not hype it up on fancy furniture, hype it up on color – Some parents would just buy all the things they think their children will enjoy having in their room. But if you are dealing with a child's bedroom in NYC, you need to consider the availability of space first. Know that a colorful bedroom with just enough furnishing is much better and functional than a crowded room with an non-cohesive color palette. Make sure your child still has room to move around and grow in to, because this is the place in the apartment he or she will most likely spend more time in.
Try a black and white base palette – When remodeling a kid's room, black and white are probably the last colors you will think to paint the walls with. While it is out of the ordinary, this is actually a bright idea. Black and white is a minimalist combination. This combo makes the room simpler and more spacious. Also, you can still add in colorful accents here and there to add flavor; but think about how easy it will be for your child to adjust in the room as he or she grows up. You will eventually need to replace the hot pink or bright orange wallpaper, as some of the rainbow colored wall accents. For this reason, black and white is definitely the easiest and most convenient color combo to work around with.
Allow your child to get creative on the wall – Admit it, children love drawing on the wall no matter how much we hate it as parents. So why not give them this freedom in their own room? You can make this possible by putting up an easy-clean wallpaper that looks like a giant graphing paper, or apply chalk board paint on one of the walls. Aside from encouraging your kids to be creative and expressive through art, you could actually show them you care about their freedom and their passion by doing this.
When doing an NYC remodel, we are always concerned about the space. Because of this, we are often limited creativity-wise as there is not enough space to work around in. When doing a kid's room, we cannot limit our creativity as renovators. Keep these tips in mind and surprise your little tots the next time you do a renovation.