Posted on November 13, 2018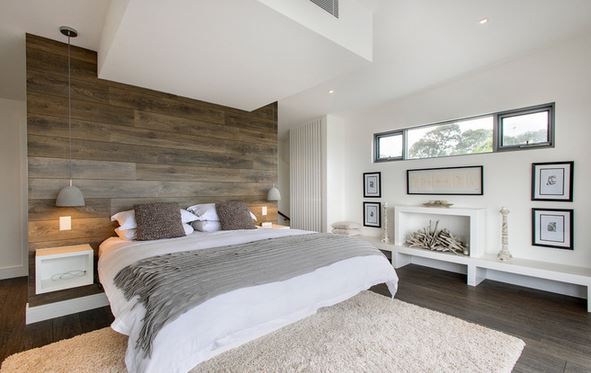 Wood is always a favorite element when doing apartment renovations. Whether it is used within the main structures or as decorative pieces, wood always gives refreshing element in the house that seems to always bring us back closer to nature. However, the use of wood as home décor and fixture has become almost like a cliché. People seem to have this one way on how to use wood in their homes, when as a matter of fact, it can serve as an interesting element in many other ways. Popular interior design trends today involve incorporating an accent wall to large rooms. These accent walls usually have a different and striking quality as compared to the all the other walls in the room, to serve like a center piece.  Apparently, wood makes a good accent wall piece. So if you are eyeing an apartment renovation soon, here are great ideas on how you can make use of wood as an eye-catching wall piece:
As a bed wall – We all love beautiful headboards. But when it comes to modern interior design, the element of beauty goes big. Hence, instead of bringing in a beautiful, wooden headboard, why not create a beautiful, wooden bed wall instead. A wooden bed wall serves as an accent wall in your bedroom. Imagine having all the other walls in light or neutral paint, and this wooden bed wall glaring across the room. It is a good idea especially if you like to keep a minimalist outlook. You may go easy on any other accent pieces. Just put up this wooden bed wall, complement it with some good lighting and give your room an instant rustic yet modern appeal.
Make low ceilings look higher – Thin wood plates are a good way to add height to a room and make it look bigger. The key is on arranging the wood plates vertically. Moreover, the plates need to be thin, around 3-4 inches strips, in order to achieve a slick and tall impression. This goes well in small living areas or dining rooms. This also goes well with some good amount of back light.
A surprisingly great detail for kid's room – A huge wooden wall piece is probably the last thing you would like to incorporate in your kid's bedroom. Wood however, is a great accent piece that will make any kid's room extra interesting. Moreover, this is something s/he can grow up with. This is something your kid would want to see in his or her room even as s/he grows up.
Sometimes, even the most modest of accent pieces becomes extravagant when used correctly. Wood is always interesting element to place in a room. And any renovation will have an attention-grabbing character with these great ideas on using wood wall accents.