Posted on August 30, 2019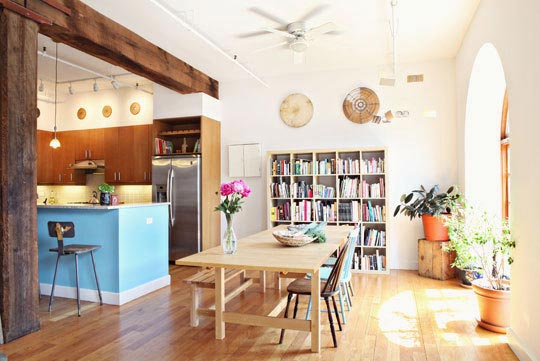 When renovating a house, most homeowners think about the house's long-term functionality aside from making it more stylish and personalized; and apparently, only a few actually consider how their homes will affect the environment. When living in a highly urbanized neighborhood like New York City, people do not really get the chance to get close to the environment as much as people in the suburbs or the country do. Despite this, people are certainly aware how battered the environment is today because of all these pollution and human activities that damage the ecosystem. For this reason, if you are planning an NYC renovation, you may as well think green and incorporate eco-friendly ideas in that home makeover. Hence, here are a few tips to help you out with that eco-friendly NYC renovation:
Patronize reclaimed wood – It is understandable that most homeowners would want to make their homes shiny as new after that makeover; however, shiny and new do not always equate to being eco-friendly. One way of making your renovation good for the environment is by using reclaimed wood instead of new ones. A lot of homeowners have tried this out and easily fell in love with the rustic appeal. You can use reclaimed wood as new cabinets for the kitchen, new door framing, counter tops or cabinets for the bedrooms. Think about it, there will be fewer trees that need to be cut if more people are going to learn how to reuse reclaimed wood over new ones.
 Think about demolition more carefully – Before deciding on demolishing the entire house, check first to see whether some areas can be kept. Save as much space as you can as this will save a lot wood for framing and walls, which will obviously save you a lot of money.
Let as much natural light in as you can – When renovating small spaces like apartments in NYC, think about tweaking lighting as this can make your house look bigger. Think about how you can let as much sunshine in. This will save you a considerable amount of power consumption at daytime as you can simply open up the curtains instead of keeping the lighting fixtures on all the time. Natural light is also good for your health, so aside from being eco-friendly you also get to feel better physically by letting in more sunshine.
We all want our houses to look best according to our personal tastes, however nowadays, the more important consideration when renovating an urban home is being safe on the environment's condition. People need to be proactive nowadays, especially knowing that we will not survive without a clean and stable environment no matter how fancy our houses are. Hence, while painting some personal touches in that NYC home, you may as well want to keep these eco-friendly renovation tips in mind in order to contribute something good to the environment as well.