Posted on March 18, 2019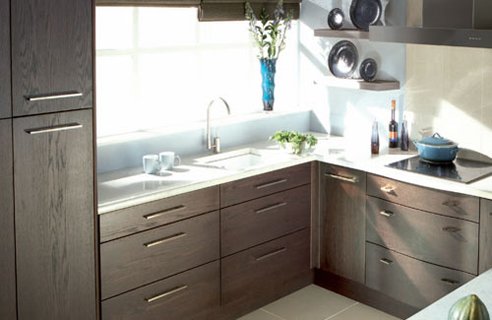 Every square foot counts when you live in a small apartment in a densely populated city like NYC. While trying to make space for a bedroom, living area, bathroom, and storage, most people forget all about their kitchens and by the time they get to it, there's very little space for anything else. Kitchens, no matter how small, can be functional and aesthetically pleasing with the right kitchen remodeling approach. So what is the best solution for limited kitchen space? With a few built-ins, very clean lines, and minimal use of color, you can create a truly functional kitchen that has everything you need even with very limited space.
Go White all the Way!
Minimalist countertops and the use of the color white can do wonders for your small kitchen space. You can add a bit of texture to a solid white wall by adding a kitchen backsplash but keep it to a minimum. Cream or soft-gray tiles are perfect for backsplashes, they add texture but they don't make the space look smaller.
Opt for Built-ins
Built-ins save a lot of space; you can make room not only for the basic necessities but all of your cookware, dishes, glasses, and an entire pantry. If you have room for a kitchen island, have everything built-in it. Opt for built-in stoves, ovens, and dishwashers so you can save some precious countertop space for prepping your meals. Add storage where you can. For kitchens that have limited storage space, custom kitchen cabinets are the best option. However, since custom cabinets can eat up most of your budget, you might want to consult a kitchen remodeling professional for the best available option. You can opt for semi-custom slide-out shelves that are made-to-fit for any of your existing kitchen cabinetry.
Let some light in!
You'd be lucky to get access to natural light when you live in the big city so if you have a window in your kitchen, take advantage of natural lighting. Replace small windows with one large window, as outdoor lighting gives the illusion of space. If you don't have a window, install a lot of lights and opt for countertops that are reflective. Reflective surfaces and appliances will enhance your kitchen's artificial lighting and make it look larger.
Kitchen remodeling does not have to be difficult or expensive. When in doubt, consulting an expert who understands your budget and your needs can save you so much time and money and give you the kitchen of your dreams.