Posted on August 2, 2019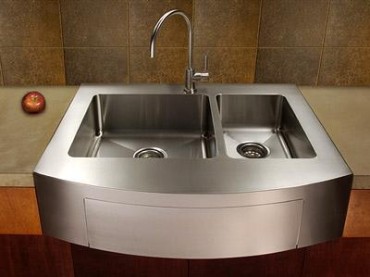 Choosing a kitchen sink goes beyond aesthetics, as its function is far more important than its physical attributes. Although, achieving a balance between aesthetic value and functionality is important, you must first consider the function of your kitchen sink. The type of kitchen sink you choose for your kitchen must be ideal for the purpose you intend to use it for. Below are three types of kitchen sinks and their ideal uses:
Single Bowl Sinks
As the name suggests, single bowl sinks only have one bowl with no compartments. Ideal for those who need a large space for washing vegetables and houseplants, single bowl sinks are usually deeper than other options. However, if you do your dishes by hand or if you prep a lot of food in the sink, this might not be an ideal option for you since there are no compartments. If you prefer single bowl sinks but you need a drain board for dishes and other uses, you can find a single bowl sink with a built-in drain board or purchase a separate drain board that you can use with your sink. Another option would be to install two separate single bowl sinks if you have enough space. Ask a kitchen remodeling professional if your layout and plumbing would allow for the installation of two separate single bowl sinks.
Double Bowl Sink
This is perhaps the most common option in many households, particularly in apartments with smaller kitchens. Perfect for multi-tasking, a double bowl sink will allow you to use one bowl for a drain board and the other for washing. Sizes vary depending on your needs but the compartments are generally not as large as single bowl sinks so if you need a large sink, you might have to reconsider this option.
Triple Bowl Sink
The ultimate multitasker, the triple-bowl sink is perfect for those who love to cook and use their kitchens a lot. Although, better suited for large kitchens with wide countertops, you can always choose a smaller size for your apartment. Since triple bowl sinks are wider than other sinks, it will require special plumbing so it's best if you hire a kitchen remodeling professional for installation. Installing a triple bowl sink will also increase the resale value of your home.
If you are replacing an existing sink and would like to keep the original plumbing, it's best to consult a kitchen remodeling professional for the best replacement to lessen the costs of installation.