Posted on July 31, 2019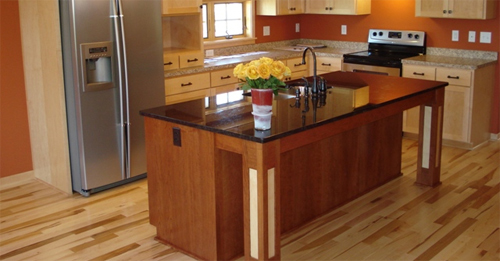 Kitchen floors are exposed to heavy foot traffic, spillage, moisture, and dust and dirt on a daily basis, which is why it is imperative that you choose a flooring material that is durable, easy-to-maintain, and is capable of withstanding all of the aforementioned elements without getting easily damaged. While there are tons of kitchen flooring options out there, choosing the perfect material for your own kitchen can be a daunting task, especially when it comes to choosing a material that is superior in aesthetics, functionality, and durability. If you're undergoing kitchen remodeling but you're still unsure about the type of material you want for your kitchen floors, you might want to take a look at the following options:
Ceramic
There's a reason why ceramic tile has become the go-to material for kitchen flooring over the years, it's durable, it's easy to clean, and it comes in just about every shape and style you can imagine. As a bonus, ceramic tile is also relatively affordable, as you can choose from a variety of lower cost options, although there are also a lot of high-end options for ceramic. The only disadvantage with using ceramic, or any tile material for that matter, is that some tend to crack with age but since you can replace each tile, it's much more affordable to maintain. If you're looking for a fail-safe material for your kitchen remodeling project, ceramic is definitely a great option.
Wood
While much more difficult to maintain compared to ceramic, solid wood is unparalleled when it comes to aesthetic appeal and value. With the right kind of finish and treatment, your solid wood kitchen floors can be just as durable as ceramic tiles when it comes to handling foot traffic. However, you will have to make sure to wipe off any spills right away, as they can cause discoloration. Wood also offers a ton of options when it comes to type, color, and style, and it goes with both traditional and contemporary kitchen designs.
Vinyl
Vinyl flooring is perhaps one of the most affordable options out in the market. While not as durable as other flooring options, you can get vinyl floors installed for as little as $1 per square foot so you really can't complain. Plus, vinyl is now made to resemble tile and wood and there are dozens of style options for vinyl available these days. So if you're looking to cut back a little on your kitchen remodeling costs, vinyl is a great alternative to wood or tile. With proper maintenance, vinyl flooring can last you for a very long time.