Posted on March 4, 2019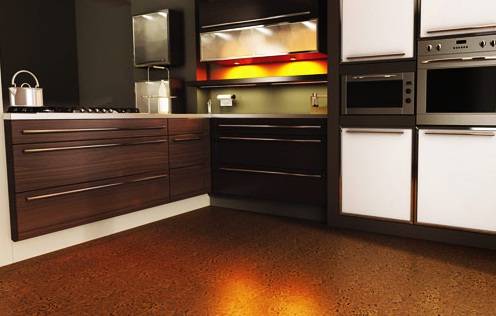 Cork flooring materials
The flooring type that you adopt is an integral part of making your interior design look lovely and special. Cork flooring material is seen as one of the finest and will provide the ultimate resilient cover you can never get with other flooring material. The material is environmentally friendly in cork planks, or cork sheets that are easy to maintain and offer high durability. The design provides a wide range of choices for designs and colors while the installation is easy. Remember that they appear in kitchen showrooms; just in case you wanted to get a clearer idea of cork flooring. They can easily be alternated and therefore match with most of your walls colors, patterns, and even other kitchenware.
Vinyl flooring
Vinyl flooring is low cost and highly durable when used in kitchen remodeling. It is easy to install and you can also create special appearances that can easily be made to match most other appliances. They usually come in varying colors and patterns such as sheets or even tiles. You will also find that maintaining them is easy compared to any other flooring material because they are plastic. However, you need to note that the material easily punctures and is not biodegradable.
Linoleum
This flooring is made of natural materials that will give your kitchen a special appearance. Though not as durable as vinyl, it is highly resistant to dents as well as moisture. They commonly appear in a kitchen showroom since they are highly attractive and comes with patterns that are compatible with any lifestyle and appeal to different tastes.
Rubber flooring
This material is seen to be more contemporary especially to residential houses and home offices. Either way the material is very easy to fit in any kitchen and is also available in varying designs. The appearance is particularly spectacular as technology comes to play in delivering special cuts, designs and even patterns. When you visit the kitchen showroom, you can rest assured of getting special materials that provide that special and lovely effect to your kitchen.