Posted on September 17, 2019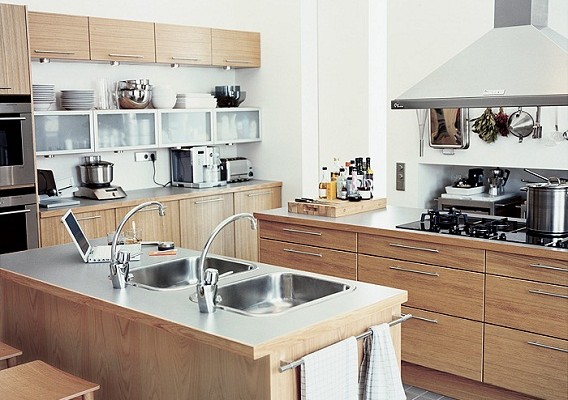 When designing a kitchen layout, many people still follow the kitchen work triangle rule. While creating a kitchen work triangle allows one to designate a work zone in the kitchen, it really only works best for smaller kitchens. Modern kitchens are designed to be much bigger and are not just used for prepping and cooking meals but also for other purposes. The kitchen has become more than just a place to cook but it's also become a place where members of the household come together to catch up. If you have a large kitchen and the work triangle concept doesn't quite work for your space, you can set up various areas in the kitchen that serve a particular purpose so you'll still have harmony in design and you won't end up having to run from end to end just to get things done when you're cooking. Keep these things in mind when you undergo kitchen remodeling or when you rearrange your kitchen's layout to help better optimize your kitchen space:
Arrange the Placement of Your Appliances Based on Purpose
If you have a large kitchen, it can be difficult to get things done right away when you have to go from counter to counter just to accomplish a particular task. The best way to go about the layout of you appliances is to group those that serve similar purposes together. For instance, the oven should be close to the cooling rack. It's also best if your prep counter for baking is right next to the oven so you can easily put food in. Dishwashers should be placed next to the sink and the garbage disposal bin to make cleaning up easier.  The coffee maker should be placed near the microwave or the toaster or any other appliance that is used along with the coffee maker like the waffle maker or sandwich maker. Arranging your appliances this way will make preparing and cooking meals faster and easier. Keep this in mind while undergoing kitchen remodeling so that you can have built-ins grouped together, as it can be difficult to move it around later on.
Designate an Area for Each Task
If you use your laptop computer in the kitchen a lot when you're working from home or if your kids prefer to do their homework in the kitchen while you're cooking meals, it's best to create a work area in the kitchen. Having designated work areas in the kitchen will allow you to go about your business without getting in the way of other family members when they want to cook or work in the kitchen.
Taking note of these tips when undergoing kitchen remodeling will make it easier for you to come up with a design plan for your kitchen that the whole family can benefit from and enjoy.