Posted on October 4, 2019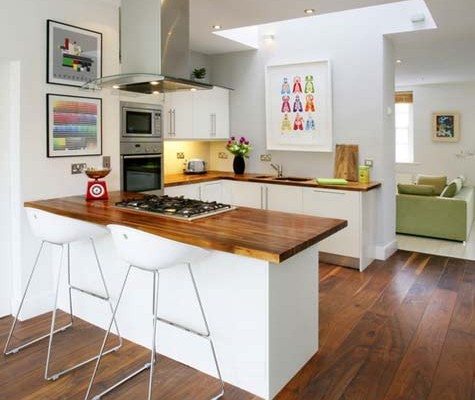 A good number of people who love to cook but feel constrained within their own kitchen usually opt to have some remodeling done. Of these people, some of them look for something more professional and efficient but may hesitate to contact NYC kitchen remodeling companies because they want to keep their kitchen from looking too much like an industrial area.
Professional kitchen equipment is normally composed of stainless steel and other kinds of metals which are excellent for cooking. There are numerous ways and kitchen remodeling ideas that allow you to seamlessly incorporate professional equipment with most types of kitchen designs — from classic to contemporary.
Stainless steel is wonderful in the sense that it easily stands out and becomes a focal point while remaining a neutral color at the same time. NYC kitchen remodeling plans that involve working with stainless steel tend to keep it a minimum and use it only in parts where it is absolutely needed. Too much metal will make the kitchen seem dull; add some color to keep things fresh and lively.
Placing a little stainless steel color in strategic areas around the kitchen goes a long way when it comes to designing your kitchen. A few ways to subdue the strong presence of stainless steel is pairing it with cream colors so as to offset the attention it commands.
Design backsplashes to add warmth within the kitchen to keep the atmosphere relaxed and cheerful. One material that works well to balance out the effect of stainless steel is wood as, if done properly; it can blend in and complement the presence of stainless steel.
Along with the kitchen counter, the two biggest stainless steel appliances within a professional kitchen are normally the fridge and the dishwasher. Professional quality refrigerators are large but work well if placed snugly in a place designed specifically to accommodate it.
What may cause problems with your NYC kitchen remodeling plans is the dishwasher as it is commonly placed under the counter and may deviate from the uniformity of the cabinets surrounding it. Rather than designing around it, it may be a good idea to install a façade to keep things continuous and rhythmic.
Cooking enthusiasts who purchase professional ranges and cooktops will most likely use it often enough to warrant the use of vents as well. Placing a vent within a kitchen design is a bit tricky and will need to be installed by professionals so as to protect the walls and objects around them from being charred by the heat.
Whenever working with equipment such as these, it would be best to consult with HVAC experts to avoid any fire hazards as well as to properly determine whether or not any other types of equipment or appliances would be necessary. Remodeling costs must also be taken into account as professional equipment is not exactly cheap.
Be one step closer to having your kitchen professional enough to accommodate cooking enthusiasts without having to sacrifice a warm and relaxing atmosphere by visiting kbremodel.com to get free estimates on kitchen remodeling costs, as well as free consultation advice for your kitchen.