Posted on October 7, 2019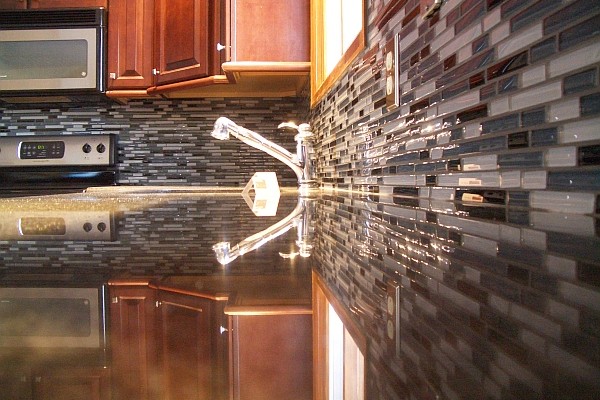 Kitchen backsplashes are a relatively new thing and its sole purpose was once to protect the area behind the stove and the sink from moisture, grease, and any unexpected kitchen messes.
Nowadays, NYC kitchen renovations take full advantage of the differing effects a good backsplash can add to the kitchen. They are now wonderful and sought after kitchen additions and which range from several different designs.
The backsplash can really do wonders to improve the atmosphere within the kitchen. They can make the kitchen seem bigger when paired along with matching kitchen cabinets to create a smoother flow since it eases transition through the creative use of colors and designs. They help make the work area more peaceful and conducive to cooking.
No kitchen makeover can be complete without proper attention given to the backsplash. These are now an integral part of kitchen design plans. There are lots of different materials that can be used for kitchen backsplashes such as stone, metal, granite, glass, ceramic, and even concrete.
Granite, however, stands out as one of the most durable materials that can be used for backsplashes. Keep in mind though that granite backsplashes must be resealed every 6 months to help keep it safe from moisture damage.
Those looking for something more elegant can turn to marble backsplashes. An added bonus to marble is that it is easy to maintain and it is very visually appealing. The downside, however, is that it tends to absorb dirt easily.
A common form of kitchen backsplash that was popular in the 50's and is reemerging in several NYC kitchen renovation projects are backsplashes of textured glass. These are available in many different designs and offer a unique look that other backsplashes cannot emulate.
The most commonly used material for kitchen backsplashes would have to be ceramic tiles. These come in arguably the most number of designs and haven proven to be durable and easy to maintain. An added advantage is that they are also good at resisting bacteria and are available for reasonable prices.
Need help with NYC kitchen renovation? Visit kbremodel.com and get free consultation advice from our experts as well as a free estimate on your remodeling plans.