Posted on May 21, 2019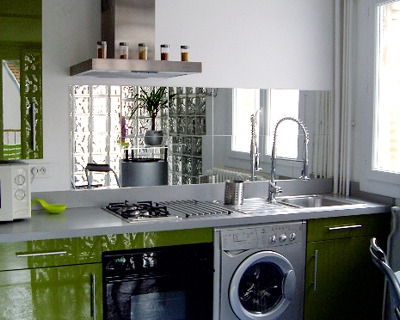 Not everyone has the luxury of having a spacious kitchen. While it's easy to fit in all your necessary kitchen appliances in a limited space with strategic planning, the last thing you want is for your space to look cramped. It also doesn't help that when you go to a kitchen showroom, you'd often see beautiful kitchens with stylish designs and adequate space, making you wish you had a better-looking kitchen. If you have a small kitchen and you want it to look bigger but you lack the space to expand it, the next best thing to do is use one of the oldest tricks in the book when it comes to making a space look bigger– add mirrors! But where would it be best to have mirrors installed? Consider the following spots:
Use Mirrors as a Backsplash
That blank wall space behind your kitchen countertop is the perfect place to add a mirror backsplash. You can install one large mirror that covers that entire space for a more cohesive design. It won't only look nice but it'll also do wonders in making your kitchen look bigger. Or you can also take inspiration from a kitchen showroom and add small mirror pieces fashioned after bricks or geometric shapes to make it look more interesting. You can also cover all the free wall space you have with mirrors to make your kitchen look much bigger.
Cabinet Mirrors
There are two ways to go about installing mirrors in your cabinetry. Either you install it inside and use a see-through glass outside or you replace the cabinet's exteriors with mirrors. These reflective surfaces will not only make your kitchen look bigger but it also helps in reflecting light to make your kitchen brighter at night.
Kitchen Islands
You can also have mirrors installed in the base of your kitchen island. It'll make it look like you have more floor space than you actually do.
If you lack inspiration, visiting a kitchen showroom might help you in gathering some inspiration when it comes to mirror installation.