Posted on November 22, 2018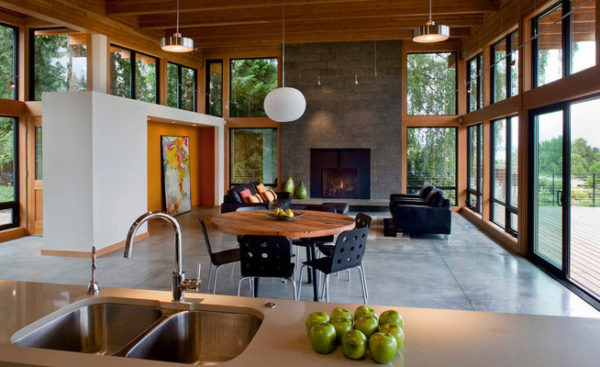 The kitchen is a popular favorite among homeowners for many different reasons. For some people, the kitchen serves a place where they bond with their friends and family, while for some the kitchen simply is the heart of the home. All this different reasons also make the kitchen a popular favorite for home makeover projects; and one of the most common kitchen dilemmas addressed in kitchen remodeling projects is the placement of the sink? Does your sink placement feel and look awkward? How do we really know where to place the sink? Aside from the stove, the sink is one of the most important elements in the kitchen; hence, it is only fitting to consider a logical and convenient placement when having a kitchen remodeling project at home. Here are a few ideas you could consider:
Where there is a beautiful view – Whenever we are by the sink, we are most likely doing a kitchen chore. And let us admit it chores are tiring and boring. This is a good reason why you have to make being by the sink more pleasing by putting it where there is a good view: may it be against a window with a wonderful outdoor view or by a clever wall piece or art. Sinks do not belong under a countertop anymore. Find a good spot and make chores by the sink more enjoyable.
Facing a great room or living room – The thing that makes open kitchens a hit today is because they make the kitchen appear more like a part of the house instead of isolating it with walls and dividers. Also, it makes moms easier to watch after their children. Moreover, this works great especially when you have guests in you house often. This will make it easier for you to chat with your guests even if they are in the dining or living room.
On the island – Usually the kitchen island will have either the stove or the sink. Logically thinking however, since the kitchen island usually functions as bar for the rest of the family members, it will be hard to have all the hot and smoky cooking going on while the rest of the family hang out on the opposite end of the countertops. This is one reason why the sink belongs to the center island best.
When making over a kitchen, the most important thing to remember is to improve the functionality of the important elements while improving the overall layout of the room. The sink is one of the crucial elements of the kitchen, so you need to make sure it is on a convenient place.