Posted on September 11, 2019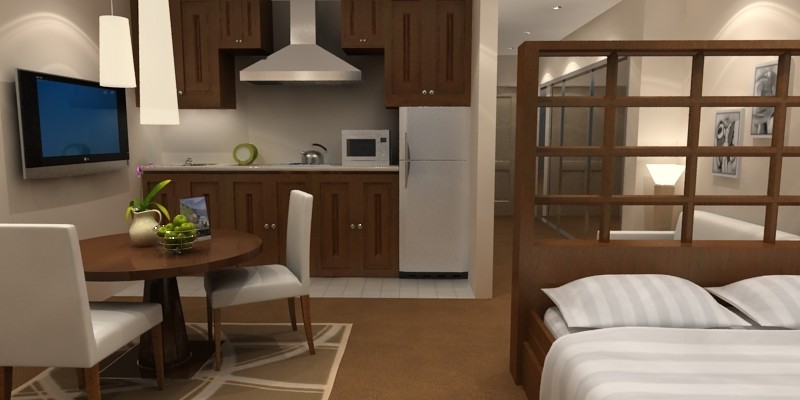 Most people start off in a big city like New York living in studio apartments and while anyone who lives in a studio would agree that it isn't the most generous when it comes to space, it really is all about making the most of what you have. If there's one major advantage in living in a small place like a studio New York apartment, it's learning to live clutter-free and learning to downsize everything. Living in a small place doesn't mean you have to sacrifice comfort, you can be comfortable no matter how limited the space, as long as you know how to optimize your available space. Below are some tips on how you can make the most out of living in a studio in a city like New York:
Create Partitions
Be it a curtain, an elevated part on your kitchen island or a tall headboard, creating partitions can help make a place look like it has more space than it actually has. For instance, adding shelving to partition the kitchen and dining from the bed area is a great way to add more storage while creating a division between the two areas.
Add a Sitting Area
Even with limited space, adding a sitting area is very important regardless of whether you plan to entertain or not. This will give you a separate space to sit when you have work at home or when you are watching television. The key to being comfortable in a small New York apartment is to make sure that certain areas are given specific functions. Plus, having a couch in your studio, no matter how small, will make the place look visually bigger.
Use Space Saving Furniture
Stackable dining chairs and bar stools is ideal for studio living so you can stack them on top of each other when not in use. If you want extra space for prepping meals in your kitchen, it's best to stick to a mobile kitchen island with wheels so that you can use it for other purposes other than cooking and you can set it aside against a wall when not in use. If you want the option to entertain guests from time to time, opt for an extendable dining table instead so you have the option to extend it when you need more room for meals.
With a few visual tricks, you can make your New York apartment look a lot bigger and with the right kind of furniture, you can increase your studio's functionality and level of comfort.