Posted on November 27, 2018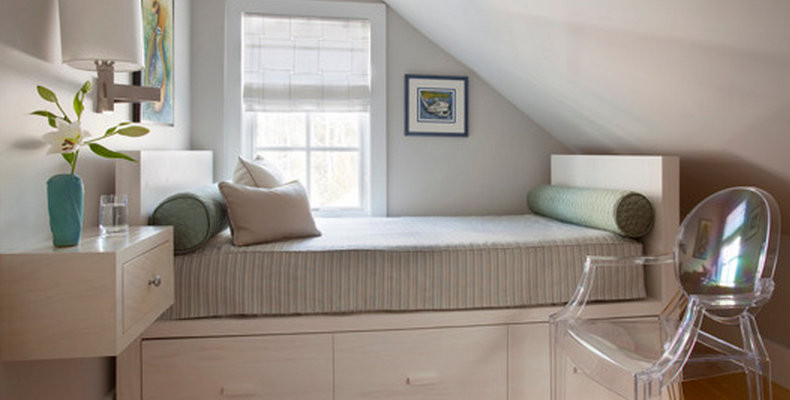 The bedroom is our personal sanctuary in the house. And while it does not have to be too spacious, it has to have enough space to make us feel comfortable in it at the very least. Sometimes, small bedrooms can even be cozier than big bedrooms. However, small bedrooms have that tendency to feel like a cave or a hole in the wall. This is very typical of an NYC apartment, thus the many NYC renovations that needs to be done. However, sometimes, it is not about adjusting the walls to give you additional room. It is about making the most of the space you have and making it functional and beautiful through clever remodeling strategies. Intrigued? Want to makeover your tiny NYC bedroom? Here are some tips to get you started:
Maximize your walls – The things that make a room look tight are the huge chunks of clutter on the floor. While beanbags, boxes of personal stuff and side tables are not technically clutter; they nonetheless eat up a lot of space. When doing a small bedroom remodeling project, one of the first things to ask yourself is whether the floor is cluttered. If the answer is yes, look at the walls of the room and maximize them. For example, you may install a wall lamp that is leveled appropriate at the side of the bed, instead of having a side table and a lamp. Also, you could go for a wall-mounted side table or book shelves. Emphasize the widened floor space with a beautiful rug and you will get yourself an instant spacious makeover.
 Let natural light in – If your bedroom gets a good amount of sunlight during the day, let as much light in as you can. Use light-colored shades and light, neutral paint on the wall to allow light to naturally brighten up the room during the day. Aside from making the room look bigger, this will allow you to save quite a bit from power bills as you do not have to always turn the lights on during the day. Remember that a bedroom remodeling project is not always about buying new stuff and installing new features. Sometimes, it is about simple tricks like this that will make your house look more roomy and comfortable.
 Have a mirror wall or a mirrored closet – Remember that designer advice about mirrors creating an illusion of space? You will never go wrong with that tip. So for your small bedroom, try having one of the walls installed with mirrors – yes, the entire wall. Or, if you have a built-in closet, replace the doors with mirrored closet doors to instantly add space to you quaint NYC bedroom. This will improve the room's lighting too!