Posted on March 6, 2019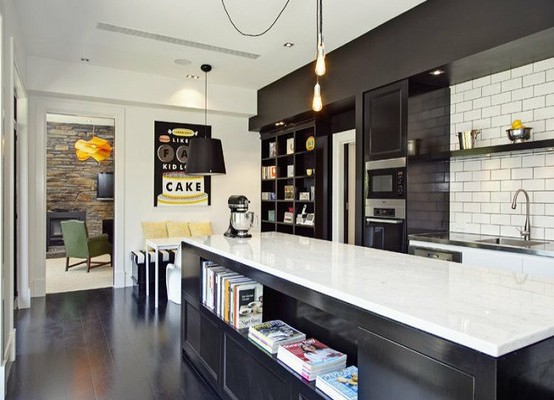 Bleached cabinets or ash floors
Inclusion of light or grey wood in your kitchen remodeling adds a smidgen of rustic elegance in the overall appearance of your kitchen, giving it a European farmhouse look if used in a certain way. Reclaimed ash floors also carry a certain charm through their weathered imperfections; a good way to add some character and emphasis on your kitchen theme.
For a high contrast appearance, you could try mixing colors by painting the drawers and cabinets, or perhaps the accent decor, a brighter color to turn a run-of-the-mill kitchen design into something unique and eclectic. Put something special in your kitchen and enjoy the allure for longer.
Horizontal shelving
Horizontal shelving involves replacing upper cabinet in favor of shelves. The shelving is airy and offers decorative storage solutions. They will also offer easy access to food and dishes stacked upon them. They also mimic the European modernistic look if you include banks of drawers underneath. Though they are uncommon, they are slowly being integrated into more kitchen remodeling projects.
Dramatic vent hood
If you want your exhaust to be extra efficient, go for a hood that is slightly larger than your kitchen top. An oversized vent hood is uncommon as more people prefer to have their fixtures be symmetrical. If pulled off properly, an oversized vent can give your kitchen a stylish and unique look. You also get the added bonus of having all heat and odors be more thoroughly extricated from your kitchen.
Extra long tables
Though smaller tables are more common because of space limitation, Including extra long tables in your kitchen remodeling gives it a somewhat vintage appearance. Long tables are also commonly accompanied by an antler or twig chandelier depending on your preference. There are plenty of looks you can achieve with a long table. But the clearest advantage of including a long table in your kitchen remodeling is that it simply gives you more surface space.