Posted on September 22, 2019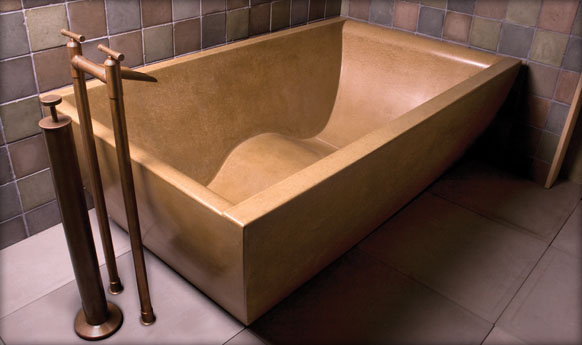 Picking a faucet for your tub used to only take a few minutes. Things are no longer as simple as that; nowadays there are so many different designs and types of faucets you wouldn't believe it. A lot of people prefer to keep things simple when choosing a faucet but for those of you looking to kick your bathroom's style up a notch, consider the following:
Floor mounted faucet
Owners of freestanding bathtubs looking for bathroom remodeling ideas may fancy this type of faucet. There are lots of styles for floor mounted faucets; some sprout right out of the ground with its pipes bare; and others are fit into special holes in the tub – also exposing its pipes.
Having a faucet come right out of the floor catches the attention of a lot people. A faucet of this type is not as hard to pull off as one might think and adds a touch of class that no other faucet can match. It has a way of becoming one of the focal points of a bathroom and is worthy of being considered for any bathroom remodeling job.
Deck mounted faucets
These are simply mounted onto the deck around the tub. These are quite common and have something of a timeless and simple appeal to them. These also come in many styles and picking the faucet to match your tub and bathroom is not too difficult unless you are working with a fixed theme, in which case consulting with a bathroom remodeling expert is recommended.
Chromed silver blends in with most bathrooms easily but rustic bronze faucets will need some extra consideration before being placed in a bathroom. Be sure to check out all the different options available to you before purchasing a faucet to ensure you find the ideal one for your bathroom.
Wall mounted faucet
Those of you who have tubs that also work as showers will find wall mounted faucets to be the most pragmatic option. This type of faucet also works well for tubs that are against walls as it saves space while still being able to look stylish.
Ceiling mounted faucet
Those looking for more daring and unique bathroom remodeling ideas can try looking at ceiling mounted faucets. Not only do these save space, but they also offer a different kind of bathing experience. Make sure that it blends well with your bathroom as these are normally designed to fit in an ultra-modern theme.
Bathtubs are perfect for relaxing after a hard day's work and nothing beats lying in a stylish tub in a beautiful bathroom. Finding the right faucet may not seem so important now but it could make all the difference in New York bathrooms.
Contact New York bathroom remodeling experts at kbremodel.com and get free consultation regarding bathroom remodeling as well as a free estimate.